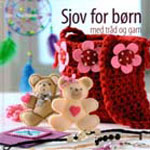 Sjov for børn med tråd og garn    Published 2004 (Danish and Norwegian) and as an e-book 2011. A new edition was published 2012 in Norway
An inspiring book with many easy and up-to-date projects adressed to children from nine years of age. Th book provides a nice introduction to chrocheting, knitting, cross stitching, sewing and otheer needle work. All models are displayed on stylish color photographs and come with easily read instructions.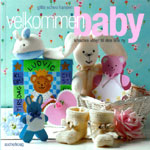 Velkommen baby- kreative idéer til den lille ny  Published 2004 (Danish and Norwegian) and as e-book 2012 (Danish)
The joy and anticipation when expecting a baby inspire many people to be creative and in this book you can find designs, patterns and templates for easy and usable models all made by hand.The different techniques are thoroughly explained so the inexperienced will find this book very useful. The small knitted socks/boots, cuddly toys, fun rattles, festive cards for the parties, cute decorations for the baby´s room such as mobiles and painted pictures with birth data can all be used as gifts for the newborn and will become loving memories and keepsakes for the parents.