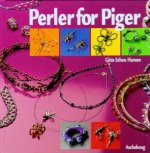 Perler for piger     Published 2000 in Danish and Swedish and as e-book 2012
This book will help you get started with a real exciting hobby. With few tools and materials an the very detailed instructions you will soon learn how to make stylish necklaces, hair clips, hairbands and rings.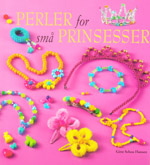 Perler for små prinsesser    Published 2002 in Danish and as e-book 2012
The book serves as a good introduction for a children´s hobby in which designs and techniques known from the adult jewellery are used with childrens´ beads on elastic bands, pipecleaners and metal wire. The models vary from sparkling princess tiaras, cute necklaces and bracelets to beaded ball pens and elastic hairbands. Everything is dispalyed on stylish color images and accompanied by clear instructions.
Perler, pynt og pailletter      Published 2003 in Danish and as e-book 2012
This book glisten and sparkle with many exciting ideas and guidance for decorating shirts, belts and jeans with beads, sequins and textils colors. You will get throughout instructed in making matching jewellery like necklaces, bracelets, ear rings and hair decorations making it easy to create your own unique and personal style. The models are of different levels of difficulty but the many illustrative sketches, photos and clear instructions facilitate the applicability of this book.