Shown are covers and short descriptions of my published books with creative ideas for Easter decorations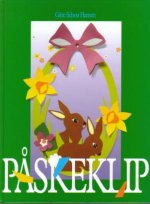 Påskeklip      Published 1994 in Danish
This is my first book with ideas for the Easter season with ornaments and decorations for the windows, the dinnertable, mobiles to hang up, wreaths, Easter eggs, yellow chickens and Easter bunnies. A book for both adults and children who want to create a festive Easter by materials as paper, cardboard, glue and scissors.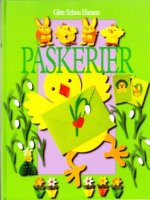 Påskerier    Published 1999 in Danish and as e-book 20013
A jolly Easter book for everybody who enjoy to create a festive Easter by means of paper, scissors and glue. In this book you will find yellow chickens, Easter eggs, paschal lambs, Easter bunnies, daffodils and new variations of cards and letters with snowdrops ( in which the receiver must guess who the sender is) and models decorated with new materials as honeycomb paper.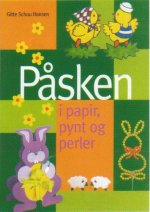 Påsken i papir, pynt og perler    Published 2002 in Danish and Norwegian and as e-book  2009
In this book you will find a wealth of new and jolly ideas for variation and renewal of the Easter decorations for windows, living rooms, tables and cards all mad in very popular materials as cardboard, beads and window color. Alll models are shown on colorful images and come with templates full size and short instructions.