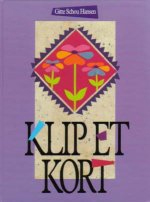 Klip et kort       Published 1993 in Danish
My first published book with numerous ideas for cardboard cards easy to make yourself for all occasions and seasons. All designs are shown in colorful images and are accompanied by thorough instructions and ful-size templates.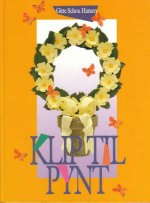 Klip til pynt      Published 1995 in Danish
A book for paper cutters of all ages with mobiles, picture frames, table decorations, napkin rings, flower wreaths, horses, cats, fish, teddy bears, mice and much more. Contains crafts for all levels, – from the beginner to the skilled crafter.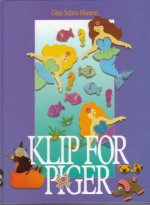 Klip for piger      Published 1995 in Danish
A book for creative girls of all ages who like to make mermaids, princesses, angels, cats, witches, paper dolls, cards, flowers, boxes etc. This book is full of designs made in paper, cardboard and foam rubber, decorated with sequins, glitter, silk bands and other funny effects..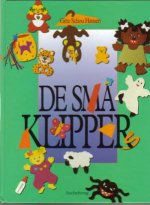 De små klipper      Published 1996 in Danish
A book for the youngest paper cutters full of models designed for use of a children´s scissor. The motifs are carefully selected together with 4 to 8 year olds and are simple without too many small details. The older children will also find this book entertaining with astronauts, squids, trolls, ghosts, spiders, monkeys, kittens, puppies and much more.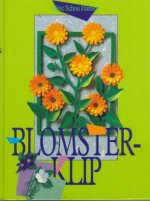 Blomsterklip        Published 1997 in Danish
Flowers are popular and this book is solely based on flowers in elegant, stylish and exciting variations used as decorations on cards, mobiles, wreaths and pictures; includes snowdrops, tulips, roses, fuchsias, jasmines, poppies and many more.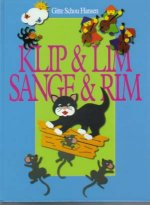 Klip og lim – sange og rim      Published 1998 in Danish
A book with sweet, fun and joyful paper cuttings for children inspired by well-known and loved Danish children´s songs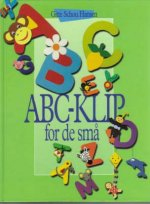 ABC-klip for de små    Published 1999 in Danish and october 2012 as e-book
An entertaining book with paper cuttings and activities for children of five years and older with the alphabet as the main theme and each character illustrated with fun figures. All models can be ajusted to varying levels e.g. small details can be painted on the model instead of cutting them out, and the figures can be glued on cardboard as collages instead of gathered with thread as mobiles.For a learning purpose the consonants can be made blue and the vowels red, and the small characters can be used as name tags.All models are shown in colorful photographs and come with the full -size templates. As an extra feature all characters are followed by a verse in which the figures are included, so the book can also be used for reading aloud.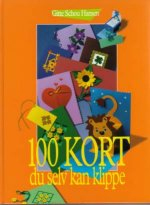 100 kort du selv kan klippe     Published 2000 in Danish and Swedish
An inspiring book with 100 ideas for homemade cards for all occations; including cards for greetings, invitations, gratulations, place cards and cards for anniversaries and the festive season.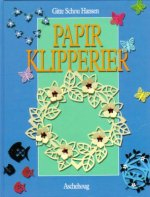 Papirklipperier       Published 2001 in Danish
A book for the adult paper cutter and older children. Here you will find a wide range of ideas from mobiles and other "hang ups" to pictures, frames, cards, bookmarks etc., all made in new materials and decorated with beads adding exciting dimensions to the designs.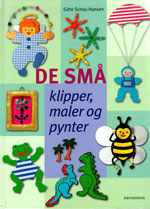 De små klipper, maler og pynter     Published 2003 (Danish and Norwegian) and 2012 as e-book in Danish
A real treasure of inspiration for boys and girls from five years of age and up. Here you will find many funny ideas and inspiration for hours of creative crafting for children, models made in Window color, cardboard, salt dough, beads, sequins and pipe cleaners. All the designs are easy to handle for children and are presented on photographs lavish on color. Full size templates and instructions follow each model.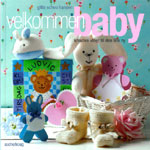 Velkommen baby – kreative idéer til den lille ny   Published 2004 (Danish, Swedish, Norwegian) and as e-book (Danish) in 2012
The joy and anticipation when expecting a baby inspire many to be creative and in this book you can find designs, patterns and templates for easy and usable models all made by hand. The different techniques are thoroughly explained so the inexperienced will find this book very useful. The small knitted socks/boots, cuddly toys, fun rattles, festive cards for the parties, cute decorations for the baby´s room such as mobiles and painted pictures with birth data can all be used as gifts for the newborn and will become loving memories and keepsake treasures for the parents.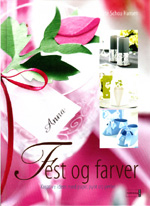 Fest og farver – kreative idéer med papir, pynt og perler     Published 2005 (Danish, Swedish, Norwegian and Icelandic) and as e-book it will be published february 2013
An inspiring book with many new and stylish ideas for handmade cards, place cards, candle decorations, napkin foldings and gift wrapping; all beautifully balanced in shape and color to make your party stylish and memorable.
Sjov for børn med papir og karton   Published 2005 (Danish and Norwegian) and as e-book 2012. The Norwegian Publishing House Cappelen Damm also published a new version of the book 2012
Paper and cardboard are fairly cheap and ideal materials for bringing out your creative spirit. With this book you will find many inspiring ideas and up-to-date designs for many hours of fun. The book is intended for girls of eight to nine years of age but – with a little help- younger children can also make the cute boxes, fun cards, ornaments, party invitations and mobiles.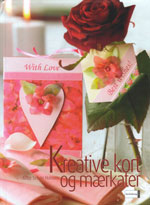 Kreative kort og mærkater     Published 2006 (Danish and Norwegian) and as e-book 2011 by Lindhardt and Ringhof
In this book you will find a lot of inspiration for card and tag making, and however skilled you are there´s something for everyone to make to bring joy to the recipient and to decorate the table for festive gatherings. Traditional materials like paper and cardboard are used but also pressed flowers, digital photographs, beads and spangles and creative use of lettering from newspapers etc. Traditional paper cutting techniques are combined with laminating, embossing, decoupage and stamping and the models come with thorough descriptions and are displayed on stylish colored photographs.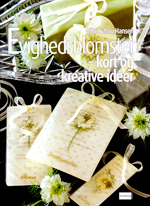 Evighedsblomster      Published 2007 (Danish, Norwegian and Swedish)
Flowers are very popular and in this book you will find many new and interesting ideas for cards and decorations with non perishable flowers made in paper, cardboard, felt, tulle, beads and metal; or picked in nature and preserved. Using a combination of new and traditional techniques, e.g. lamination, this book will turn to beginners as well as more skilled crafters.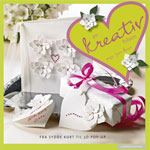 En kreativ hilsen      Pulished 2009 (Norwegian, Swedish, Icelandic and French)
There is nothing more heart-warming than receiving a handmade greeting card, lovingly crafted by the sender, and making your own cards is also a form of relaxation and treasured above any shop-bought card. In this book you will find many innovative ideas for every occation around the year, including birthdays, wedding and holidays, and techniques from simple cut-outs to 3-D pop-ups.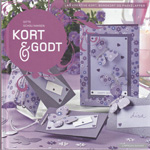 Kort og godt       Published 2010 (Norwegian and Swedish)
This colorfulbook of 128 pages is full of ideas, patterns and instructions for making a great variety of cards, place cards and gift tags for the special occations year around. With lots of good inspiration and stylish color images, full size templates and detailed instructions this book is suitable for the skilled as well as the new craft maker. The designs can be used for more purposes e.g. the place cards can be used as gift tags and as decoration on cards and you will also find instructions how to make a matching gift wrapping with many of the themes.